Security is an important factor to consider for any home and it's best to begin at the entrance! High-security doors are a must consider for any kind of home improvement. It is important to get your doors secured against burglars and thefts. If you are in the process of improving your home, you would not only look for security in the doors you choose to replace but also style and finishing so that the entrance of your house appeals to anyone entering it. Manufacturers are even ready to offer custom-made security doors for your home improvement which would match the overall look of your house. So, the extra level to cross into entering your home not only adds to your security but enhances the look of your house.
Some Preferred Types of Security Doors for Your Home Improvement:
#1. Security doors with diamond grilles: These doors come with grills in the shape of diamonds. This not only looks good but allows fresh air to travel freely between your security and main door. They are mostly made of aluminum and come with insect mesh for protection against the entry of flying insects. These doors of approximately 7 mm thickness are easy to clean and maintain so they naturally last longer.
#2. Cast Grille doors: Security doors made of diecasts and aluminum are known for their strength and long-lasting nature. Most designer doors for security are made of cast grilles. Cast grilles can take any desired shape and design to match the look of your house which is why most interior designers prefer their use while designing the look of a house.
#3. Mesh Grille doors: This type of security door comes with a view guard. The structure is made of aluminum and stainless steel. This type of door used for security look the best due to its classy appearance. The best part about these doors is that they will provide you with the required security without obstructing your vision. So you can keep your main door open and your mesh grille security doors closed while getting complete visibility of who comes to visit you or enjoying the view outside.
#4. Stainless Steel Doors: Security doors made of stainless steel are not only sturdy but beautiful as well. If you are building a bungalow this type of door is most preferred as it gives you the ideal look that you want for your bungalow with 100% visibility. The stainless steel structure is supported by the hard glass with no grilles and meshes, making it the easiest type of door to clean.
No matter the kind of door you choose to keep your home secure, there are some important features that you must consider while picking up the right door for your house.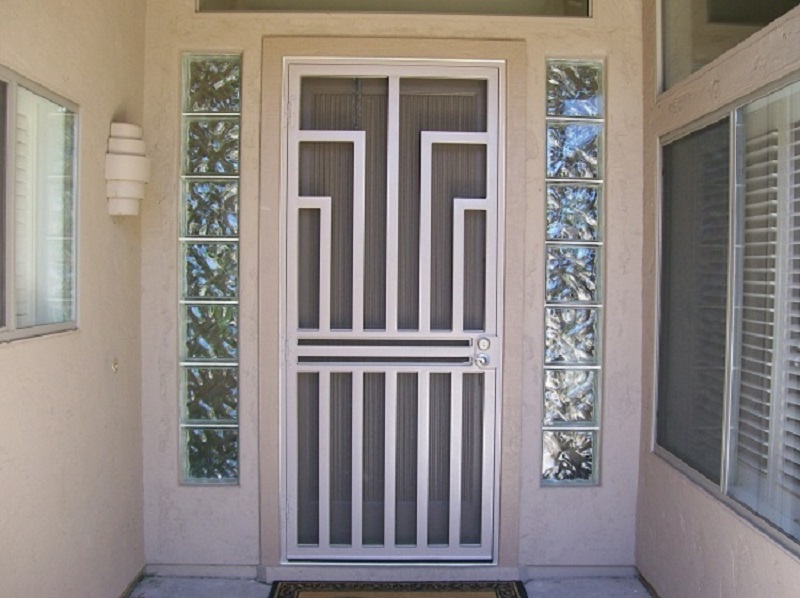 Make Sure Your Security Doors Cover the Following:
Double-sided security lock.
Locks on sliding doors
Frames that are sturdy and sturdy
Adjustable closing
Damage-proof insect mesh
Hinges for security supported by rivets
Anti-tamper guard
Easy sliding wheels and bearings
Flush bolts
Additional locks
Aluminum vision mesh
Security doors with pet doors
The price of the security doors would also be an important factor to consider. Look at the prices offered by multiple suppliers before you take a decision. You can also check online reviews of your chosen suppliers before finalizing. Also, consider the quality of the door. Go for security doors that hold the mesh well within the frames, are strong and sturdy, have passed quality checks, and come with a warranty and assurance of replacement and make the most of the same.